Suwannee Lake was once a low lying swampy area with a creek running through it. It is now a shallow man-made lake with cypress trees growing in much of the main part of the lake. The creek running through the area was dammed up by the state to create a public fishing lake. Suwannee Lake is about 63 acres. The water level is maintained by letting excess water out through the dam. The water remains pretty much at a constant level except during very dry times.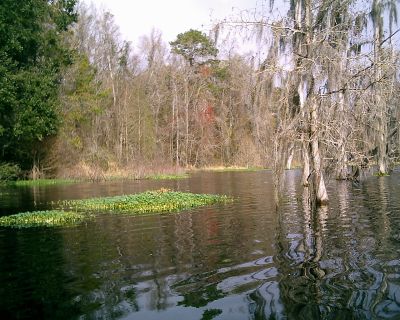 There are two long wooden fishing piers going out into the lake. One of them is handicap accessible. There are also several earthen fishing dikes sticking out into the lake. The concrete boat ramp is easily accessible and there is plenty of room to park vehicles. Using a boat motor in Suwannee Lake is not a good idea. The water is shallow over most of the lake and it is filled with logs from the trees that died when the lake was flooded. Only the cypress trees, which can live even when covered by water, remain standing.














Suwannee Lake is stocked with many species of freshwater fish. Brim, bass, crappie, and several other kinds of fish can be caught from the fishing piers or a boat. The lake is a special fish management area and size limits are in effect for largemouth bass and crappie. Largemouth bass must be 18 inches long and crappie must be 10 inches long. Fishing license requirements are in effect for adults fishing in the lake. The floating logs and trees standing in the water make the lake an ideal place for fish, turtles, alligators, and many species of water birds.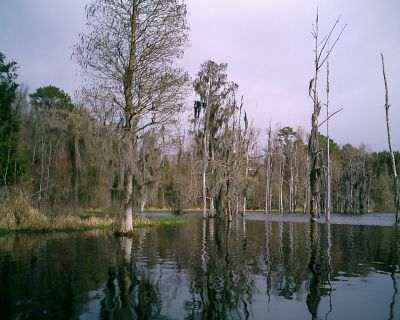 Fishing, picnicking, or just paddling around the lake to look at the beautiful scenery is always an enjoyable experience. The lake is about 5 miles east of Live Oak, Florida. The lake is located on a dirt road which turns off of the Old White Springs Road. The Old White Springs Road runs from Lee Street in Live Oak to County Road 417. There are several signs pointing the way to Suwannee Lake.