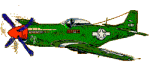 Animations by Graywolf- Computer GIF animations - Aircraft, trucks, fantasy, and others. Free animations to use in email or save them to a folder. Nothing to download, just right click and save.





---
Police Radio and Scanners- The 10 codes, signal codes, phonetic alphabet, local frequencies used in north Florida, and more!




---
The 776 Tactical Airlift Squadron - Originally the 776 Bombardment Squadron organized in 1943, in 1966 the reorganized 776 Tactical Airlift Squadron flying 4 engine, turbo-prop C-130 Hercules aircraft moved operations to CCK Air Base on the island of Taiwan to provide support for operations in Vietnam and carry out missions through out the Pacific. History of the 776 TAS, deactivated in 1975 shortly after the fall of Saigon.


---
Harry C. Gray II Memorial Post 107 of The American Legion - Suwannee County, Florida --- meeting schedules, news, contacts, and other information.

BINGO every Tuesday!! - Call 1-386-362-5987 for more information.



---
SPONSORS
---
Painted Oaks Farms- Transporting horses nationwide in the USA. Sales, training, and boarding of fast horses in Lake City, Florida.

---
A Guest Book is available where you may leave comments or problems encountered with any website on this domain. You are not required to fill in all boxes. A user name and your comments will be sufficient.
---
---
Graywolf / 2006